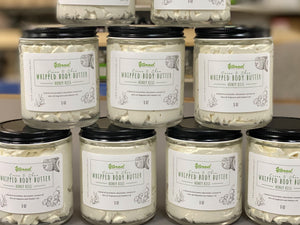 Now available in a signature Honey Kiss scent.

Our whipped body butter is made with raw African shea butter, cocoa butter, coconut oil, and olive oil. This combination works perfectly to hydrate, nourish, + protect your skin while adding essential fatty acids.
The benefits of fatty acids for skin include relief of dry + itchy skin, improving skin elasticity, reduces stretch marks, treats acne + blemishes and so much more. 
Our honey kiss scented whipped body butter has hints of the warming aroma of honey vanilla with nutty and sweet undertones.
8 oz to 16 oz of pure perfection. 
Ingredients: African raw organic shea butter, cocoa butter, olive oil, organic coconut oil, fragrance, vitamin e oil

****PLEASE NOTE*** Our body butters are whipped to airy perfection which makes it perfect for you, but not for shipping. As we enter summer temps the oils that go into our body butter are susceptible to melting. From June-August 2021 we won't be shipping our body butter to prevent any of our customers from receiving a defective product. You can still purchase them online and pick them up curbside here in Sacramento, CA. You can also find our body butter for sale at African Marketplace every 1st and 3rd Saturday of the month.