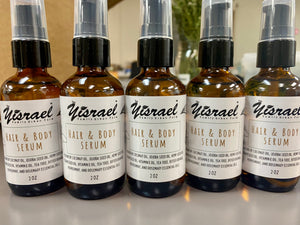 Our hair and body serum is just what you need for the ultimate glow up. Hair serum can benefit your hair in several different ways. It can help add shine, reduce frizz, and enhance your natural texture.
For the hair, this serum isn't designed for everyday use, but is designed as a twice a week or weekly maintenance tool to keep your locs poppin'! We recommend applying a light amount on damp hair (dry hair is okay) and style as usual, a little goes a long way. 
For the skin, this serum can be used daily and works well especially on dry patches of skin to rejuvenate skin cells and provide the glow. Please note - this is not a facial serum. 
This serum is packaged in a reusable eco-friendly bottle. 
2.0 oz
Hair & Body Serum ingredients:
A blend of coconut oil, grapeseed oil, jojoba seed oil, hemp seed oil, tea tree, bitter orange, peppermint, rosemary essential oil and vitamin e oil.
Grapeseed oil is full of vitamin E. This vitamin works to build, protect, and correct. It assists in the production of collagen and improves skin tone. It helps to fight damage from free-radicals and prevent acne breakouts.
Coconut oil is an excellent moisturizing product for your hair. It can be used both before and after you wash your hair to help prevent damage and keep your hair looking shiny and healthy.