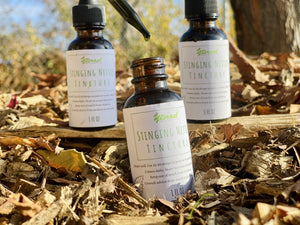 Stinging Nettle has been known to support the upper respiratory system due to its anti-inflammatory properties. It promotes joint health, subdues common allergy symptoms, aids in reducing hair loss and large prostate issues. Loaded with amino acids, it is also known to regulate blood sugar and blood pressure. 

As a concentrated form of medicine, we recommend taking your tincture no more than three times day. You can add 6-12 drops to water or juice.
We recommend that you consult with a qualified healthcare practitioner before using herbal products, particularly if you are pregnant, nursing, or on any medications.
*This statement has not been evaluated by the Food and Drug Administration. This product is not intended to diagnose, treat, cure, or prevent any disease. For educational purposes only.