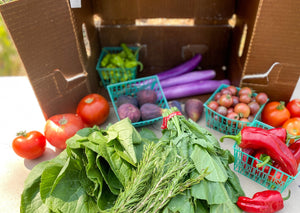 Welcome to our biweekly produce subscription. 
You will be automatically billed every other week and with pick ups on Sunday afternoons. Some of the items you can potentially see in your food box this summer includes: onions, peppers (sweet and spicy), figs (coming soon!), eggplant, summer squash, okra, heirloom tomatoes, mustard greens, herbs and more! *Food boxes are not customizable at this time*

There is no commitment for our subscription program. You can skip, pause, or cancel anytime!


Have questions about the program? Email us at love@yisraelfamilyfarm.net or text us at 916.238.8490. 
For local pick up only. THIS PRODUCT WILL NOT SHIP.