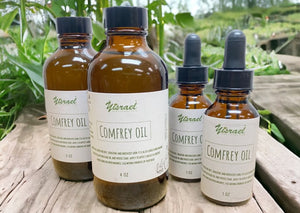 Introducing our Comfrey Oil, a natural remedy crafted with care to soothe and rejuvenate your skin. Available in two convenient sizes - 1 oz and 4 oz, our Comfrey Oil is made with handpicked comfrey leaves grown right here on our farm, combined with the invigorating essence of pine needle and eucalyptus essential oils.
1 oz Size:
Discover the healing power of nature in a compact package with our 1 oz Comfrey Oil. Perfect for on-the-go relief, this size is ideal for your purse or pocket, ensuring you have soothing comfort at your fingertips wherever you roam.
4 oz Size:
For those seeking a larger supply of this natural wonder, our 4 oz Comfrey Oil offers extended nourishment. Whether used as a massage oil, a post-workout remedy, or as part of your daily skincare routine, this size is perfect for those who cherish the revitalizing properties of comfrey.
Key Features:
Farm-Fresh Comfrey Leaves: We meticulously cultivate and harvest comfrey leaves right on our farm to ensure the highest quality and purity in every drop of our oil.
Pine Needle & Eucalyptus Essences: Enriched with the invigorating fragrances of pine needle and eucalyptus essential oils, our Comfrey Oil awakens your senses while soothing your skin.
Natural Skin Rejuvenation: Comfrey is renowned for its skin-soothing properties. Our oil can help ease discomfort, reduce inflammation, and promote the natural healing of minor skin irritations.
Versatile Uses: Whether you're looking for relief after a long day, a calming massage, or a gentle addition to your skincare regimen, our Comfrey Oil is a versatile and must-have addition to your natural wellness toolkit.
Embrace the soothing power of comfrey and elevate your self-care routine with our farm-fresh Comfrey Oil. Choose your preferred size and let the healing benefits of nature rejuvenate your skin. Order today and experience the difference of natural, farm-grown goodness.