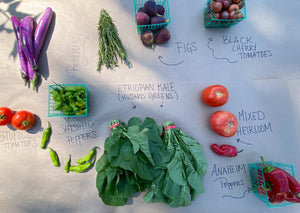 Our produce box subscription is limited and please contact us before purchasing this item to confirm availability.

There is no commitment for our subscription program. You can skip, pause, or cancel anytime! 
Click this link for more information and to get on the waitlist! By joining this list, you will receive priority notification when we have an opening for either one or both of the programs you wish to be a part of. 

If you've already been offered a subscription, please move forward with your purchase.

Have questions about the program? Email us at love@yisraelfamilyfarm.net or text us at 916.238.8490. 

For local pick up only. THIS PRODUCT WILL NOT SHIP.